FORRESTER RESEARCH REPORT
20 Startups All Retail eBusiness Executives Should Know In 2016
In a highly competitive and dynamic retail market, there is no shortage of technology vendors that aim to stand out from the crowd. It is more and more difficult to identify which companies bring new and interesting value propositions to the table.
To help Retail eBusiness Executives select which startup will help them solve their online retail challenges, Forrester has selected 20 companies that have differentiating solutions that put the customer first in innovative ways.
Mirakl is part of this list because it enables retailers to host marketplaces on their own sites, which can cost-effectively increase selection while also providing merchants with profitable sales and great customer experience.
Download the report now to learn how Mirakl can help you better compete with Amazon.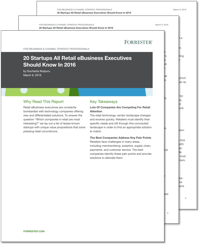 20 Startups All Retail eBusiness Retail Executives Should Know In 2016
---