Adding marketplace functionality to a commerce site can increase revenue and improve customer satisfaction
Gartner states that in the U.S., 10 of the largest marketplace operators generated more than $100 billion in sales in 2015, a third of all commerce sales for that year.
It's no surprise, the rise of digital commerce sales on online marketplaces continue to increase. Existing marketplaces like Amazon, are putting added pressure on brands, manufacturers, and retailers to keep pace.
As a result, it has become increasingly appealing for companies to turn their current commerce sites into marketplaces. From reading this report, we believe you'll learn:
Why buyers are shifting more dollars to marketplace purchases

Key marketplace considerations and recommendations for commerce leaders

How adding marketplace functionality can increase revenue and customer satisfaction

A case study on how a global retailer increased sales and assortment through the Mirakl Marketplace Platform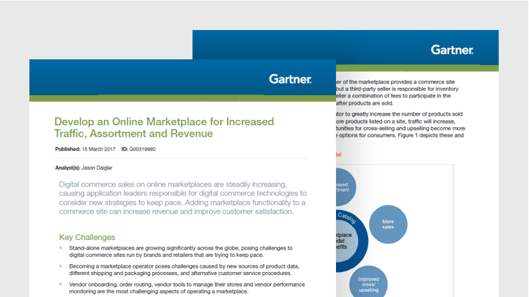 Gartner Developing an Online Marketplace for Increased Assortment, Traffic and Revenue, Jason Daigler, March 15, 2017