Dans ses prévisions en 2019, Gartner met en lumière l'importance du modèle économique de la marketplace
En 2019, les organisations devront réinventer leur stratégie eCommerce en adoptant des technologies émergentes et de nouveaux modèles économiques. Selon les analystes de Gartner, les places de marché permettent déjà aux vendeurs de trouver de nouvelles opportunités de chiffre d'affaires.
Partant de ces constats, Gartner estime «qu'à l'horizon 2023, 15% des entreprises de grande taille ou de taille intermédiaire sur le secteur du e-commerce, auront mis en ligne leur propre place de marché, créant à cette occasion un écosystème digital ».
Dans cette étude, les analystes de Gartner mettent en avant les technologies et les modèles économiques émergents qui sont synonymes de succès pour les spécialistes du eCommerce qui souhaitent innover.
Téléchargez cette étude pour en apprendre plus sur :
• Les 5 prévisions de Gartner pour le commerce digital en 2019.
• Les raisons pour lesquelles, dans la vision proposée par Gartner, le modèle de la marketplace est capital pour l'avenir du commerce digital.
• Les recommandations de Gartner à destination des leaders du eCommerce désireux d'adopter de nouvelles technologies.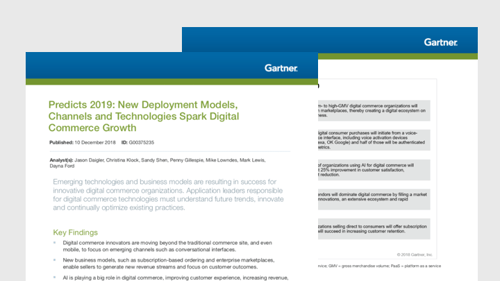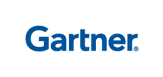 Predicts 2019: New Deployment Models, Channels and Technologies Spark Digital Commerce Growth, Jason Daigler, Christina Klock, Sandy Shen, Penny Gillespie, Mike Lowndes, Mark Lewis,Dayna Ford, December 10, 2018.
GARTNER is a registered trademark and service mark of Gartner, Inc. and/or its affiliates in the U.S. and internationally, and is used herein with permission. All rights reserved.